General features and applications
SimCa performs cavity ABCD simulation considering TEM00 mode and gaussian optical systems. Three calculation modes are used: linear, ring cavities, single-pass propagation through an optical system. Astigmatism calculation after component tilt (tangential and sagittal beams are considered) is made. SimCa can also performs parametric analysis.
Outputs
Gaussian beam tracing on one-way and return.
Waist size.
Waist location.
Stability graph.
Beam size visualization along the system.
I/O characteristics
ASCII file containing system information.
Color printing of results, data sheets and systems.
Operating system
Windows 7 / 8 / 10
SimCa interface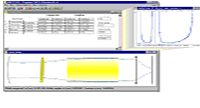 Application examples
Cavity Stability